Ultra Health extended a donation to the Town of Bernalillo for The Town's Children's Christmas Fund in December 2016, helping children who would otherwise not receive presents get a special surprise from Santa.
This is the second consecutive year Ultra Health has donated to the fund. Ultra Health has also contributed funds toward other services for the Town of Bernalillo such as coat and toy drives. The Mayor of Bernalillo, Jack Torres, sent a thank you letter to Ultra Health expressing the town's gratitude.
The letter reads:
"I am writing to express our deepest thanks on behalf of the Town Council and the staff of the Town of Bernalillo, for your recent donation to The Town's Children's Christmas Fund. Generous gifts from donors like you provide the financial and moral support needed to continue our mission. We raised over $11,000.00.
With your faithful contributions over the years, you've demonstrated your deep commitment to our community and ensure that every child in need was provided with a gift this Christmas.
Your support has repeatedly played a key role in our success. The children were so excited to receive their Christmas gifts personally delivered by Santa. It was such a wonderful gift to see the joy and pleasure the children got from their presents.
The tradition of the Children's Christmas fund began in 1957 for less fortunate children in our community. It is only with the support of people like yourself that we are able to continue this tradition. There is no way to fully express our gratitude for your loyalty. We at the Town of Bernalillo are continually inspired by the dedication and generosity of donors like yourself who answer the call to give again and again.
Thank you once again; your kindness is truly appreciated.
Sincerely yours,
Jack Torres, Mayor"
Ultra Health also participates in other charitable causes regularly. Most recently, all six Ultra Health locations hosted a sock drive  from November through the month of December, collecting and donating thousands of socks for nine charities across the state. The charities include Joy Junction, St. Martin's Hospitality Center, Safe House, Bienvenidos Outreach, Many Mothers, Haven House and Hobbs Health Care Center.
Ultra Health also sponsors community events such as Zozobra, which will embark on its 93rd year of celebration in 2017. The Burning of Zozobra is a unique cultural event staged annually by the Kiwanis Club of Santa Fe on the Friday before Labor Day as an exciting and fiery kick-off to the historic 304 year-old Fiestas de Santa Fe.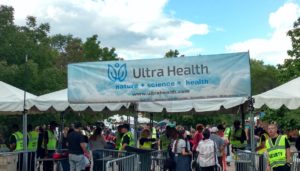 Ultra Health is also the title sponsor of the Ultra Health Gathering of Nations Powwow, an event that contributes a $20 million economic impact to the city of Albuquerque, New Mexico.
Ultra Health will continue to donate to the communities it serves, as well as sponsor community events well into the future. After all, health is not only physical and mental, but social as well.